Bali Cooking Classes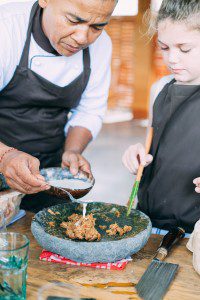 BALI COOKING CLASSES
The focus of the Pesantian Bali Cooking Classes is to inform and immerse the cooking class participants in local ingredients and culture. Through a hands-on experience you will be guided to make a range of Balinese dishes, supported by our experienced Chef, Santika. Your senses will be alerted as you feel, smell and taste the fresh, organic ingredients that you may have picked up at the local market that morning.
If you wish, you might like to begin your cooking class with a tour of a local food market where our Chef will guide you through the stalls, explaining and purchasing ingredients for your class. A market visit will introduce you to unusual fruits and vegetables, spices, meat and fish, as well as inform you of the important part that a local market plays in the everyday lives of Balinese people.
Then, for two joyful hours in the traditional kitchen, you will learn to master the Balinese stone pestle and mortar as you grind and blend spices for fiery sambals or create the traditional all important Bumbu Bali. Get to know native herbs and spices, dice, slice and grind to discover the secret of Balinese cooking and take these new skills home.
Afterwards, in our Pesantian Warung with stunning 180′ rice terrace views, enjoy a delicious lunch that you have cleverly made yourself!