Nearest Places
Welcome to the Island of the Gods
The island of Bali in Indonesia is year after year voted by the readers of all major travel magazines as one of the most enchanting travel and holiday destinations in the whole world. Bali is constantly changing. It's dynamic. It's organic. There is rapid development of Bali's economy, local and international tourism, the influx of people from other Indonesian islands. However, Bali has managed to maintain its uniqueness and magic over the decades, and keeps enchanting visitors from all over the world, many of whom return regularly.
Ubud
Ubud is a Balinese Village situated in the Gianyar Regency. This village with a population of about 30,000 people, is located 20 km from Denpasar City where it can be reached within 30 minutes from Gianyar Regency. Ubud Village is an art village where many art works, of high artistic value, can be found in the area. It is because of the local, artisan people creating the art work, in particular, paintings, that makes Ubud so unique and of such interest to visitors to Bali. It is situated 300 meters above sea level and is, therefore, characterized by cooler temperatures than in the southern part of Bali Island. Ubud, with a pure natural environment, is surrounded by rice fields, rivers, ravines and lush jungle. Historically, it has been a source of inspiration for foreign artists, especially from Europe. Neighboring villages are well known for unique bamboo crafts and furniture, wood and stone carving and many other crafts. The town was originally important as a source of medicinal herbs and plants; Ubud gets its name from the Balinese word Ubad (medicine).
As a tourist destination, Ubud has many interesting tourist attractions such as Puri Saren (Ubud Palace), Ubud Central Market, traditional art markets, Art Museums, interesting boutiques and Monkey Forest.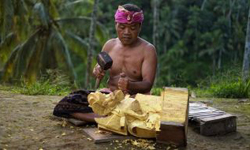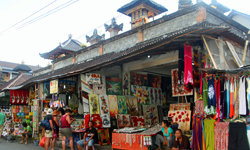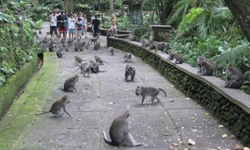 Goa Gajah or Elephant Cave
Elephant Cave or better known as Goa Gajah, is the name of a spiritual temple with an archeological heritage in the form of a cave, ornamented by a beautiful relief on the outside wall of the cave. It was formerly a park, a place of retreat for Shiva Priests and Buddhist Monks. Goa Gajah is located on the west side of Bedulu Village, Ubud. This natural cave is located on the confluence of two small rivers called Kali Pangkung and Petanu River. The meeting area of two rivers is called Campuhan (mixed) which is deemed to have magical powers. Goa Gajah is on the World Heritage Tentative list.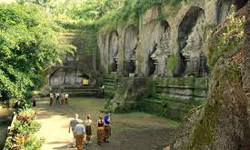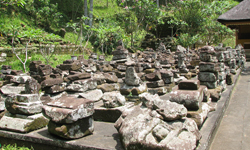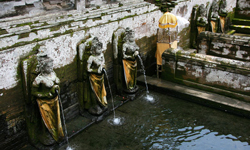 Kintamani
Kintamani, known for its cool temperatures, is a plateau area situated in the north-east part of Bali Island, an hour from Ubud, featuring the amazing Batur Volcano and Lake. It is one of the famous tourist destinations in this paradise island offering beautiful panoramic views of an active volcano, crater lake and surrounding area. As well, Kintamani is surrounded by six ancient villages around the caldera of Lake Batur which are often referred to as a Bali Aga Village that has its own the unique culture, in the form of houses and life style. On September 20 2012, UNESCO made Mount Batur Caldera a part of the Global Geopark Network.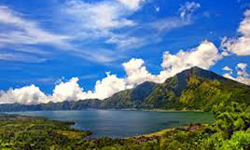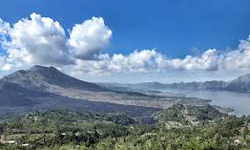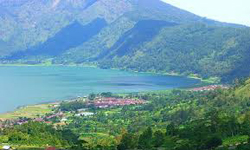 Tampak Siring
Tampak Siring Temple and Tirta Empul are located in Tampak Siring Village, about 40 minutes by car from Ubud. It is situated off the main road to Kintamani and is set in a valley surrounded by hills. Tirta Empul is a Hindu Holy Spring, sacred to the local residents as a place to purify the soul and mind. The water that comes out from the Holy Spring is believed to eliminate all kinds of diseases including the adverse effect of human life and to give one new holy spirit. Tirta Empul is very famous in Bali and is visited by local people and tourists every day. Tampak Siring is also the location of one of the six presidential palaces in Indonesia. The Palace was built between 1957 and 1960 at the initiation of President Soekarno. The main palace buildings are built on a higher ground overlooking Tirta Empul Temple and Mount Agung.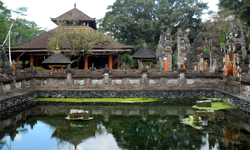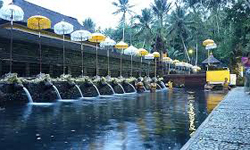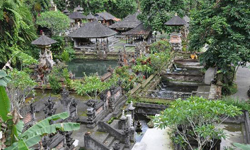 Tegalalang Rice Terrace
Tegalalang Rice Terrace, just 30 minutes north of Ubud, is famous for its beautiful scenes of rice paddies involving the subak (traditional Balinese cooperative irrigation system), which according to history, was passed down by a revered holy man named Rsi Markandeya in the eighth century. Tegalalang forms one of the three most splendid terraced landscapes in Ubud's shared region, with the others being in the villages of Pejeng (where Pesantian is located) and Campuhan. Located 600m above sea level, the rice terraces offer an excellent example of local rice farming practices. In June 2012, the Subak system of Bali was enlisted as a UNESCO world heritage site.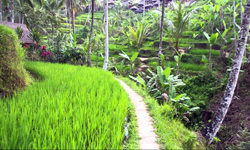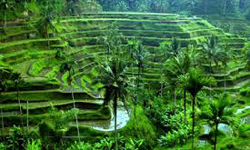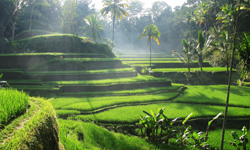 Goa Garba
Just 10 minutes drive from Pesantian Villa and Warung, the temple, which dates back to the late 11th century, is entered by steep stone steps. If you are a spiritualist, you may feel the vibration of the magical temple of Goa Garba or Garba Cave. The Aura of the cave is so pronounced that people who aim to meditate and gain knowledge, often come to this cave.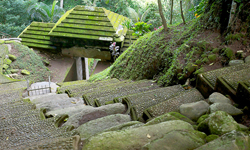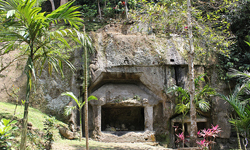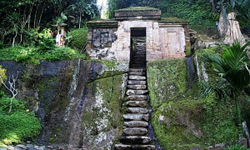 Samuan Tiga Temple
Located in Bedulu village, one of the ancient villages in Bali, Samuan Tiga Temple is one of the important temples in Bali's spiritual history. Samuan Tiga (The Meeting of the Three), dates from around the 10th century and was the sacred meeting place of three prominent Hindu priests. It features interesting and distinctive architecture and stunning views. You will see seven courtyards separated by walls and split gates, connected only by stairs that lead up to the innermost courtyard, the meeting hall of gods, deities and saints. This temple is just a five minute drive from Goa Gajah (Elephant Cave).